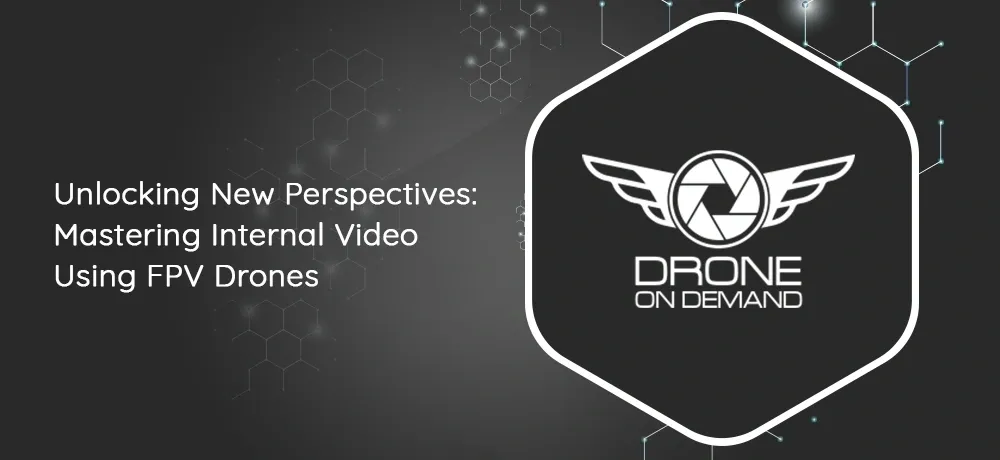 Unlocking New Perspectives: Mastering Internal Video Using FPV Drones
Imagine capturing breathtaking aerial footage and stunning visuals of your indoor spaces with the help of cutting-edge technology. If you're looking to document processes, showcase progress, or create captivating videos of your business in Kansas City, Shawnee, Overland Park, Topeka, and the surrounding areas, then you've come to the right place. Welcome to Drone On Demand, your trusted FAA-certified commercial drone company, ready to elevate your aerial photography and videography to new heights. In this blog, we will explore the world of Internal Video Using FPV Drones and provide you with valuable insights, tips, and tricks to make the most out of this innovative solution. So, let's dive in and discover how you can revolutionize your documentation process!
Safety First: Navigating Indoor Spaces with FPV Drones
To ensure a successful and secure flight, it's essential to prioritize safety when using FPV drones indoors. Understanding the drone's capabilities, flight controls, and safety features is paramount. Familiarize yourself with the specific rules and regulations governing drone usage in your area to operate within the legal framework. Safety should always be the foundation of your drone operations.
Pre-flight Planning: Mapping Out Your Flight Path
Before taking off, meticulous pre-flight planning is crucial. Take the time to plan your flight path, identifying any potential obstacles or hazards within the structure. Note any fragile or sensitive objects that should be avoided. Additionally, it's important to clear the area of people and pets to prevent accidents. Effective pre-flight planning sets the stage for a smooth and successful drone operation.
Navigating Obstacles: Precision Control in Confined Spaces
Unlike larger drones equipped with obstacle avoidance sensors, FPV drones require cautious navigation. When flying in indoor environments, be mindful of walls, furniture, and other objects that may obstruct the drone's flight path. Slow and deliberate maneuvers are key, especially in confined areas such as narrow hallways or rooms. Gradually increase your speed as you gain confidence, ensuring a seamless flight experience.
Illuminating the Scene: Optimizing Lighting Conditions
To capture the best footage, lighting plays a crucial role. Ensure adequate lighting inside the structure to maintain excellent visibility for the FPV drone's camera. If necessary, use additional lighting sources or attach a camera with low-light capabilities to capture clearer footage. Well-lit indoor environments enhance the quality and detail of your videos, creating a visually captivating experience.
Power Management: Maximizing Battery Life and Flight Time
FPV drones generally have limited flight time due to their smaller size and payload capacity. To make the most out of your aerial operations, plan accordingly and have spare batteries available to minimize downtime. Efficient power management allows for uninterrupted flights, ensuring you capture every important moment without interruption.
Solidifying the Connection: Ensuring Stable Communication and Signal Strength
The live video feed transmitted from the FPV drone to the operator is essential for a successful operation. Optimize the antenna placement and minimize obstructions to ensure a stable and reliable video transmission. By maximizing the connection's strength, you can confidently maneuver the drone, capturing every remarkable detail from the sky.
Documentation with Purpose: Tailoring Shots and Angles
Every video project has unique goals, whether it's project management, quality control, or marketing purposes. Define the specific objectives of your documentation process, allowing you to tailor your shots and angles accordingly. Showcase the necessary details to convey your message effectively. With FPV drones, you have the power to capture stunning visuals from perspectives that were once unimaginable.
The Art of Post-Processing: Crafting the Perfect Narrative
After capturing the footage, the post-processing stage allows you to refine and organize your content effectively. Consider editing and organizing the footage to create a compelling visual story. This may involve creating time-lapse sequences, adding annotations, or combining different perspectives. Post-processing enhances the impact of your videos, ensuring they leave a lasting impression on your audience.
Staying Compliant: Following Local Regulations
When using FPV drones for internal video, it's crucial to adhere to local regulations and guidelines regarding drone usage. If you're uncertain about any specific rules, consult with local authorities or aviation experts to ensure full compliance. By operating within the legal framework, you can enjoy the benefits of FPV drone technology while maintaining a safe and responsible approach.
Congratulations! You are now equipped with valuable knowledge on utilizing FPV drones for internal video purposes. Drone On Demand, your trusted FAA-certified commercial drone company, is here to help you overcome any challenges you may face. From safety considerations and pre-flight planning to navigation techniques and post-processing, our team of experts is ready to assist you in capturing breathtaking aerial footage of your indoor spaces. With Drone On Demand, the sky is no longer the limit. Experience the power of FPV drones and unlock new perspectives for your business.
Get in touch with us today!